I thought this was one of the best episodes of the season thus far. Loved the sound of the morning dove to open the episode up.
That sound
takes me back. Now I know not everyone shares my opinion with regard to this week's installment. For those of you who do not share my sentiment, let me refer you to Richard's comment this week:
First off I had had it with Gillian and her creepy incestuous ways, but she showed she is as cunning as she is twisted when she set up her Jimmy look-a-like so that she could have a body to produce and finally get the house in her name.
I also thought it was interesting to see Gyp in a new light. The way he tended to his suit and worried about getting it dirty at the dinner table reminded me of Tony Manero in Saturday Night Fever.
Gyp was bullied and mocked at home by his mother and sisters. No wonder he is so sensitive to the apparent slights by others.
LOVED Gyp's "praying." Then he decks the priest and by the "grace of god" scrapes together enough change to make his draw with Masseria, but still was going to get whacked before he offered to kill all the Italian's enemies. That was some smooth talking Gyp.
Loved the Nucky/Eli sit down. They finally got everything out on the table. I liked the mentions of their mother and how she always put out three red eggs. Am I wrong or has there been reference made to Nucky having a sister or a second brother?
Loved how Margaret tried to open up to June (Eli's wife) and all she could say was "you brought pineapple upside down cake." Tell you what...having popped out 8 kids, June looks pretty amazing. Eli is a lucky guy.
And his line to Eli: Can I get a drink?
Eli: Right this second?
Nucky: Do I need an appointment?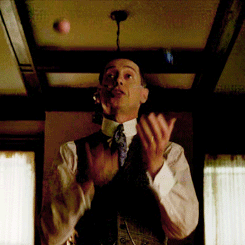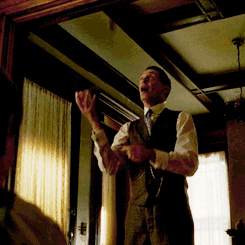 He got a taste of good family life and all of a sudden wants the fairy tale with Margaret again.
Last but not even close to least, what an episode for Richard. Any time we get to see him scrap booking we win.
How bout also when his B said she is basically her dad's sparring partner? Richard was like "HE HITS YOU." NO NO not like that. Whew. Her dad by the way looked like a meth ridden Micky Doyle didn't he?