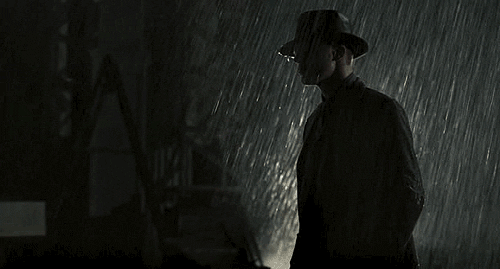 Initially while watching the finale I thought the post title for the recap was going to be "Welcome Back Cracker!" A take off on the Welcome Back Kotter series and referencing Chalky's scene when the KKK guys were delivered to him. He and Purnsley could not have been more thrilled.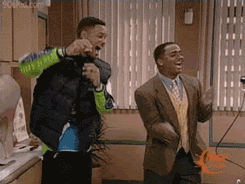 But then, the shit got real.
At first I was upset. How could Jimmy have been so jolly drunk when he knew what was coming. He gave Tommy his dog tags, he knew he was going to meet his end. I think what we watched over the last two seasons was a long slow death of a soldier who was never going to be whole ever again. Jimmy talked about how the soldiers would laugh and make up songs to take their mind off the killing. Jimmy was able to laugh about those times because he had let the war go finally. He was ready for death. Richard made the comment that he himself was still "there." He hadn't yet made peace with what he did "over there" and Atlantic City has been just another blind, just another mission for him. Jimmy prayed that his friend would find his own peace as he knew he would soon enough find his.
I turn to the Shogun Assassin on 1980 made popular by
Gza's "Liquid Swords."
He was the greatest Samurai in the empire, and he was the Shogun's decapitator. He cut off the heads of 131 lords. It was a bad time for the empire. The Shogun just stayed inside his castle and he never came out.
That was when my father left his samurai life and became a demon.
Jimmy was a soldier and soldiers die, sent to death by politicians and businessmen. Well Jimmy made it home but he still was a soldier for the same type of people. When he tried to be someone else he lost touch with who he was. He said it himself, he was upset about what he saw happening around him back home, guys like Nucky lining their pockets thanks to the freedom he and his fallen brothers provided.
Jimmy knew what he was walking into, he went unarmed. Jimmy never expected to come back alive from the war. Nobody was more surprised than he was. Like
Terence Winter
noted, "He's kind of been the walking dead, for lack of a better term, since he got back." Even from the first encounter with Gillian where she remarked, "This isn't my son anymore," he was different. He came full circle in the last few weeks, fully realizing how deeply he had been manipulated by his father and Gillian and how badly she screwed him up psychologically. He sort of took the honorable soldier route and fell on his own sword but only after he set things like Chalky's situation right. He said to Richard, "This is something that I have to do," and Richard knew what he was talking about, and being a soldier himself, Richard allowed him to do that. Otherwise they could have picked off the whole lot of 'em together. Richard accepted Jimmy's fate but still offered to go and help him and sort of take his place. "I'll kill them all if you want."
In the pilot Jimmy told Nucky you can't be half a gangster anymore. Nucky showed blood runs deep as he chose Eli over Jimmy and ultimately pulled the trigger to put Jimmy away. In the end Nucky showed him he knew all to well there's
no such things as half way crooks
. In so many words he told Jimmy you spoke the wrong words man and now you get touched, it's gotta be this way.
Your simple words just don't move me, you're minor, we're major. (Goes back to the speech Manny made in the basement to Nucky about the middleman) You all up in the game and don't deserve to be a player. Your crew is featherweight, my gunshots'll make you levitate.
Nucky is cold blooded, his warm heart didn't turn cold because he has no heart. The whole would-be touching scene with Emily, in the yard, was all a ploy to get Margaret to marry him and it worked. Earlier when Nucky came home and Katie was trying to get Emily to walk she burst out "Hi Daddy!" He didn't so much as put a hand on her shoulder to say hi, he just went upstairs to unpack once he knew Margaret wasn't home. If push came to shove he would use her, her brother even Margaret as a human shield if it meant saving his own hide. Wellhe is gonna burst when he realizes she signed over the land deed to the church.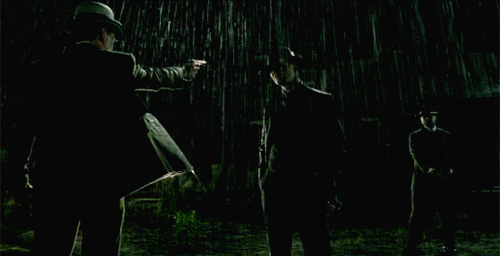 Yeah Nucky chose Eli and kept with the blood is thicker than water/family theme of this season, but once Eli does his time and is out of jail I doubt he shows him much if any love.
On the future of the show Terence Winter recently said in an interview:
I'd like to explore more aspects of some of the characters, deeper aspects of characters we've gotten to know a little bit: Rothstein, Luciano Lansky, Capone, Chalky, Richard. Those are people who already exist and I'd like to get to know more about them. On the other hand, they also need conflicts and people to butt up against. So there will be new characters and new situations.
But he also said there will not be a revenge storyline for Richard so where does that leave my man? Trying to figure out how to climb out of the trench and into the light like his good friend did?
I'm so bummed about Jimmy, but also because I think it means the end of Richard.
I guess come Sunday night if I find myself feeling empty and lonely inside I'll just pick up the phone.
Until then...if anyone needs me I'll be on the beach in my drift wood lean-to eating a pocket full or peanuts...TO THE LOST