We will get to the giant elephant in the room soon enough but aside from what is rather common place in places like West Virginia and Cleveland, Ohio there was a lot of amazing this week to discuss.
The flash back sequences to Jimmy's days at Princeton were very special. I'm never shocked by Scorcese's attention to detail or his costume departments for that matter, but I am constantly in awe. Case in point was the well chewed pencil Jimmy held while reading aloud to his classmates and professor.
We saw that Jimmy's tendency to "come out swingin'" was a part of him from early on and a byproduct of his upbringing in Atlantic City. While most of his classmates came from well off families by way of schools like Phillips Exeter, our boy prepped at the School of Hard Knocks. His professor found that out the hard way after he messed with Gillian at the school mixer.
I loved seeing Jimmy in the early days of he and Angela's relationship. Highlight though was his room mate self deprecating quips and his referencing Cyrano De Bergerac when he called Angela his "Roxanne."
We knew Gillian has always had a weird relationship with her son bordering on the inappropriate like when she shared with Angela how she used to kiss Jimmy's winkie as a baby, but I never thought they would take us where they did this week. Gillian you were wrong, there definitely was something wrong, there was something wrong with all of it. Flash forward to when she was going over the funeral arrangements with Jimmy and she remarked how Angela didn't really have a very wide circle. Well you would know Mommy Dearest having had your son inside you like she did.
Jimmy woke up the morning after and we've all had those face in hands moments after a night of boozing and poor decision making, but this was a whole different ball of wax. Maybe I wasn't as appalled as most because my college room mate had this tape he kept in his sock drawer that I would borrow periodically titled
Taboo-The Ultimate Sin
, but I do put all the blame on Gillian. Just like Jimmy's fast temper was a product of his upbringing so is his distorted sense of family and sexual conduct. There was no fire wall whatsoever when it came to his mother's sexual exploits and his sense of what a mother son relationship was perverted from birth.
One of the more impressive shots of the season, perfectly captured Jimmy at the crossroads of his life as he looked out the window and saw a car load of coeds driving off screen as in the distance a formation of soldiers marched out onto the quad. In case that wasn't an obvious depiction of the crossroad Jimmy had reached in life, the railroad crossing sign in the foreground left little to misinterpret.
We soon realize that Jimmy is aware of Angela's death and the flashbacks were brought on most likely by his dive bombing the envelope of heroin Lucky gave to him. (Great Call btw by Brownie Luche last week) I've seen a lot of weird techniques for getting f'ed up in my day. I once saw Johnny Knoxville stick drugs right up his 2-hole, but this was by far one of the most pathetic scenes of drug abuse I have even witnessed. Can someone get that guy a straw?!?!?
Jimmy looks like he and
Mr. Brownstone
will be spending a lot of time
Under the Bridge
if you know what I mean.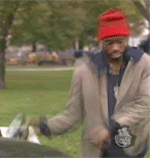 Meanwhile back home his boys are moving on without him and looking to cut him out of the equation like Boston George. Jimmy hasn't exactly left them much choice with his inability to move their booze. They each seemed to have no issues selling their own lots. Lucky had to only go as far at Hoboken to unload his. I gotta side with the young guns here and say Jimmy was droppin the ball there. How hard is it to sell booze when there is nothing but demand and no supply. It's like Chris Rock once said, "Drug dealers don't sell drugs. Drugs sell themselves...You don't ever really got to try to sell crack. I never heard of crack dealers going, 'Man, how am I going to get rid of all this crack? It's just piled up in my house." Uh gimme a happy meal and an 8-Ball thank you!
On the subject of addiction Margaret must have some serious sauce in the bedroom because Sleater may have gotten her off his fingers but she was still stuck in his head this week. She did look pretty amazing as she brushed her hair while talking to Nucky.
Don't look so glum though Katie. If Margaret keeps giving our man the Heisman he is gonna come knocking at your door once again or end up looking like Quagmire.
Speaking of weird arm muscles, where did the Commodore get his retard strength from. One look at Jimmy's face though when he went after Gillian told you no amount of thrust practice was gonna stop Jimmy from winning that mortal kombat.
Gillian might be weird and twisted, but she is cold blooded son. She wasted no time telling Jimmy to finish the old man off.
I so wanted Jimmy to finish off the Oedipus Complex with some sort of catch phrase to the tune of "How's that for showing you my cock? Can u see my cock now Dad?" Oh well I guess the knife from his pants was all the imagery he needed.
Saddest moment of the week aside from Emily's "magic legs" fail (which we have agreed we have no interest in discussing because it's way too emotional) was Richard's goodbye to Angela. Having mustered all his restraint to not call Gillian a flat out "C" after she basically called him a "re-tard" in front of the police officer, I was amazed he was able to keep it together while he rubbed the blood of his beloved Angela between his fingers. If we don't see him avenge either with or without Jimmy, I will shit a brick. Scalping won't even come close to what he thinks up for Mannie the butcher. Maybe he can borrow Chalky's daddy's tools.
Well that's about it for me this week, I can't wait to hear your comments. Till then I'm out da door like Van Alden.